Twenty-four years of teaching at St Thomas Aquinas School in Springwood, has taught principal Serge Rosato, many unexpected things. How to be a gun at handball (although once he ended up with a concussion), the necessity of keeping a Philips head screwdriver in your drawer to install batteries for new toys, and how to keep 550 students calm in a firestorm when your own home has gone up in flames.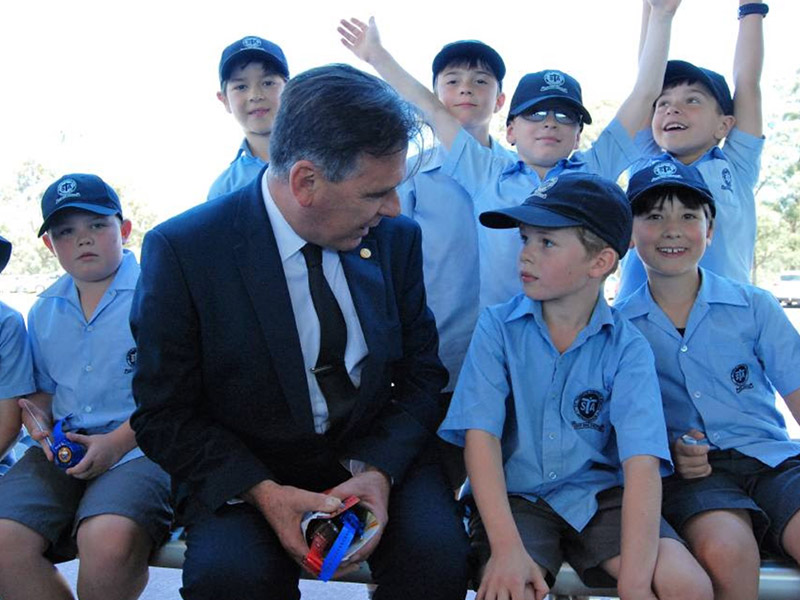 Mr Rosato has only a few weeks left of service at the school after spending 17 years at the helm as its leader.
He has been tested in the role, but called every day at the school "a privilege".
"Knowing that I'm leaving at the end of the year is sweet in a way, because you have to be in the moment. It's been joyful reflecting on the privilege."
In 2013 Mr Rosato lost his home while evacuating the children from the school. The fire had come through a valley between St Columba's Catholic College [where Mr Rosato's 17-year-old twins were in lockdown for five hours] and St Thomas Aquinas, and was started by powerlines in Linksview Road.
Mr Rosato said he "had a strong sense that we didn't have a lot of time before it would be at the school".
He led his students and staff on a 2.5km walk to safety while flames closed in, walking past Paulwood Avenue and on to Hawkesbury Road where several homes burned and out to the Winmalee shops. Three children had asthma attacks and one disabled child had to be carried by a Year 6 teacher almost the entire way during the exodus. The fires destroyed 200 homes and caused significant damage to 132 more homes.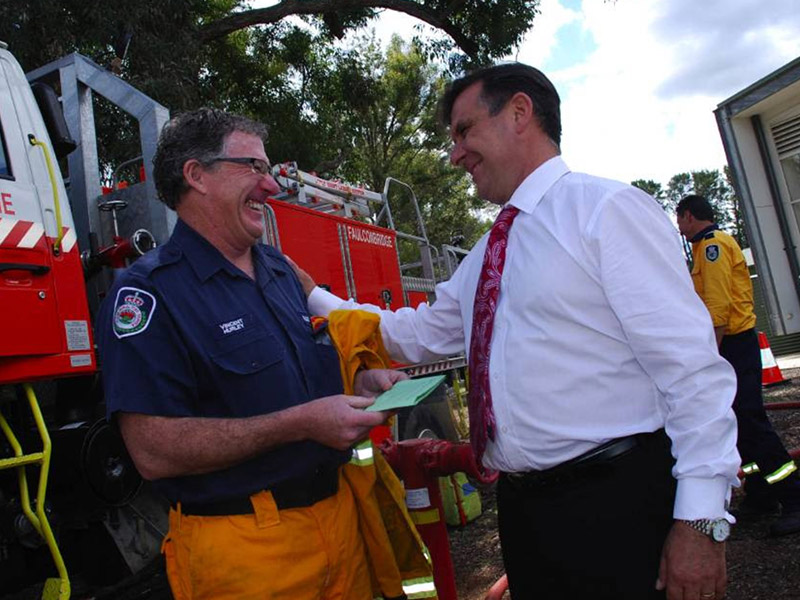 A year later Mr Rosato was named 2014 Blue Mountains Citizen of the Year. He was also honoured with a rare medal from the Pope. The Gold Papal Medal, the Benemerenti medal, was for his "heroic and exceptional" service and "great leadership to his community" while his own home burnt to the ground. It was originally an award given to soldiers in the Papal Army and has been bestowed since 1832.
Sydney Archbishop Anthony Fisher bestowed the medal on behalf of the Pope, calling it "a very unusual [honour]. In Rome they got a sense that something special happened here."

Archbishop-elect Anthony Fisher conferred the Benemerenti medal on behalf of Pope Francis in recognition of his singular service to the Christian life .
How did he heal after the fire calamity?
Mr Rosato said the calming words of Red Cross trauma expert Robert Gordon had the biggest effect and he has recommended other communities "get him in as soon as possible" after a similar event. Seven years is usually the recovery cycle, and he thinks this community could benefit from another visit.
Mr Rosato said after the fires he worked hard to park his problems at the door each night before he came home. These days at school when he walks around at recess, he is mobbed like a rockstar, with hands to shake and pleas to play handball.
He said, at 58, it's probably time for a new challenge at his new school in Glenmore Park and time for "renewal" for St Thomas's 100th birthday in 2021. His replacement is a "committed educator", principal Marina Hardy, who also lives in the Mountains.
"It's time for someone else to come with their gifts."
But he's already steeling himself for his final afternoon in 2019 at the St Thomas's school gate.